Bio-waste
From 1 June 2023 at the latest, bio-waste must be collected in a separate bin on all properties and institutions, regardless of the number of apartments, the purpose of the property or the size of the institution.
As an exception, exemptions from the bin obligation can be applied for by single-family houses, semi-detached houses, townhouses registered as single-family houses and properties with houses with up to two apartments who compost their kitchen and canteen waste on-site in a closed composter (a box closed on all sides, suitable for year-round use) and receive permission for composting from their district administration.

The bio-waste bin is emptied by the same waste hauler that empties the municipal solid waste bin and a change to the existing contract is sufficient. You can get more information about the waste hauler in your area HERE. 

Permissions for composting can be requested on the waste manager registry website. A photo of your composter must be attached to the application and the prerequisite for obtaining permission is that the resulting compost bin can be used on-site. The district administration will grant permission within 30 days. If it is not possible to use Tallinn's waste manager registry, a signed application with a photo of the compost bin in use must be submitted to the district government. 

In order to promote the separate collection of bio-waste, the city of Tallinn provides collection bins for single-family houses, semi-detached houses and houses with 3-9 flats based on requests. A free bio-waste collection bin can be requested at the Tallinn e-service portal. After receiving the bin, you must sign an addendum to the contract with your current waste hauler within two weeks and agree on the emptying frequency of the bio-waste bin. Residents of residential properties located next to each other may share waste bins and a contract for the use of a shared container must be made. The bio-waste bin must be emptied with a frequency that avoids overflow, the spread of odours and pests and pollution of the surroundings, with a minimum of once every two weeks
A 7-litre bio-waste collection bin for the home kitchen can also be included free of charge with each collection bin. Read more.
Bio-waste falling under household waste can be broadly classified into two:
Kitchen and canteen waste

(waste code 20 01 08) – food and kitchen waste generated in households, offices, retail outlets, wholesale companies and catering establishments; waste generated in the food industry that is similar in composition and nature to bio-waste generated in households;

Garden and landscape waste

(waste code 20 02 01) – biodegradable waste such as grass, leaves, fine branches, etc., generated during the maintenance of gardens and green areas.
Bio-waste must be collected separately from other waste!
This is primarily because biodegradable waste can be reused (for example, to make compost and biogas).
---
Bio-waste collection and processing
The Tallinn Waste Management Regulations require placement of a collection bin for bio-waste: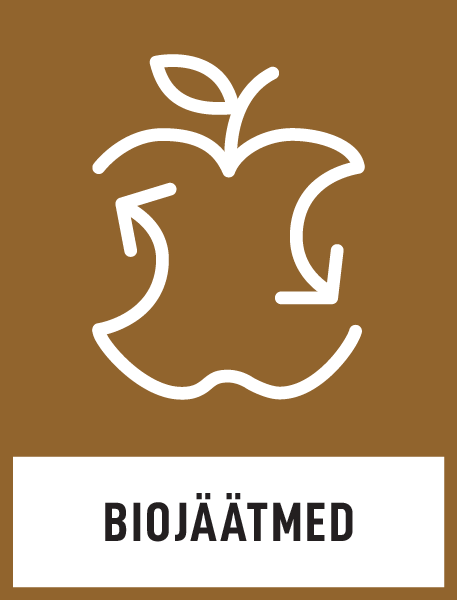 Things that go into the bio-waste bin:
food waste, such as meat and fish waste, vegetables and fruits (including peels), bread, semi-finished food products, bakery products and confectionery, cheese, butter and margarine and other solid food waste;

household paper, paper napkins, coffee grounds, paper filters;

indoor plants and cut flowers;

tea bags if they are made of 100% biodegradable materials.
Bio-waste may only be packed in a bag made of paper or other biodegradable material. 
Learn more from the guide for collecting bio-waste 
Bio-waste collection bins must be emptied at least once every two weeks.

Waste unsuitable for composting may not be placed in the bio-waste container, i.e. bio-waste may only be thrown into the container in a bag made of paper or other biodegradable material. Do not throw a plastic bag into the bio-waste container. To prevent soiling of the collection bin, it is possible to order a lining bag made of biodegradable material from the hauler, which is installed after each emptying.
---
Food waste and garden and landscape waste can also be composted if there is the necessary space on the residential land. In this way, you save on waste transport costs and in addition, compost is produced, which can be used as fertiliser in your garden. 

Food waste can only be composted on-site in a closed composter protected from pests. 
Garden and landscape waste (mown grass, tree leaves, branches, etc.) may be composted in piles. The composting bin must be located at least 3 m away from the neighbouring property and 4 m away from the building, unless the owners of neighbouring properties or buildings agree otherwise.
If bio-waste is disposed of as municipal solid waste, it has three possible negative effects:
biodegradable material is not maximally used as a resource;

bio-waste can make the waste material more difficult to process or reduce the calorific value of the waste material (the efficiency of incinerators decreases);

if bio-waste ends up in a landfill despite the efforts of the waste handler, it causes the generation of landfill gas and leachate.
Compost made from bio-waste collected in Tallinn can be bought from the Pärnamäe waste treatment plant, where certified compost is on sale at the price of €7.20/m3. If you want compost, please contact us via e-mail info@jaatmejam.ee. You can also buy compost made in Tallinn from the Tallinn Waste Recycling Centre (read more HERE).

Separately collected bio-waste must be transported for composting to the proper composting site, Tallinn Waste Recycling Centre, another waste treatment facility with a relevant waste permit, or composted on site according to the requirements of the regulation. 

Learn more from the composting educational video. 
---
Garden and landscape waste such as branches, leaves and other biodegradable waste can be composted by the city residents themselves or handed over to operators of waste treatment plants for composting centrally in special areas. Waste treatment plants accept up to six 100-litre bags of garden and landscape waste from one person per day free of charge.

Districts organise leaf collection campaigns in autumn. In Nõmme district they are usually in spring. You can find information on the district's page, the district's online channels or the separate webpage.
---
Food waste, prevention of food waste, including food donation
The Food Bank deals with donating food and accepting donations. The most convenient way to donate food to the Food Bank is through the donation machines, which are located in various grocery stores across Estonia at the tills or information desks.
When donating and redistributing food, both donors and charitable institutions and organisations must ensure food safety. Read more on the Agriculture and Food Board website.

A guide on food safety when donating
---
Description of the service:
bio-waste